The Builder's Arms in Croydon raised over £1,000 through a hamper raffle – and promptly headed to the supermarket to purchase nine trolley-loads of goodies for the Esther Community Enterprise Food Bank. Simon Griffiths, the big-hearted general manager at The Builder's Arms, put the three hampers together and raised a total of £1180 through the sale of raffle tickets. The hampers were filled with goodies donated by various suppliers, brewery tours and trips to Sipsmiths Gin Distillery.
The raffle was drawn on Monday 19 December – and Simon and his team immediately headed to the local Asda to fill up with essentials and Christmas treats for the food bank.
Simon said: "Christmas is a time for giving and my team and I wanted to make sure that as many people in Croydon as possible could eat well on this special day. The team at Asda were amazing – we had nine trollies, full of rice, pasta, tinned food, tea and coffee, cereal and Christmas choccies.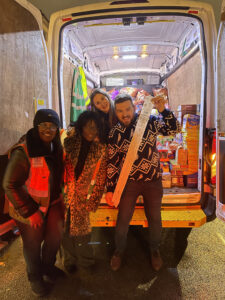 "When we arrived at the food bank, with two full cars and an Uber XL, the ladies at the food bank were stunned. I think they were expecting a couple of bags of shopping – so it was a bit of a shock to see so much food. It was so rewarding to see the delight on their faces and to know that we have made so many people's Christmases that little bit better. And I think the team at the food bank will be customers for life at The Builder's Arms.
"I can't thank my customers enough for their generosity with the raffle tickets. The team at Asda were outstanding, opening a special checkout just for us, and even our Uber driver was amazing and gave up his time to help us unload the food into the food bank. The spirit of Christmas and the season of goodwill is certainly alive and kicking in Croydon."