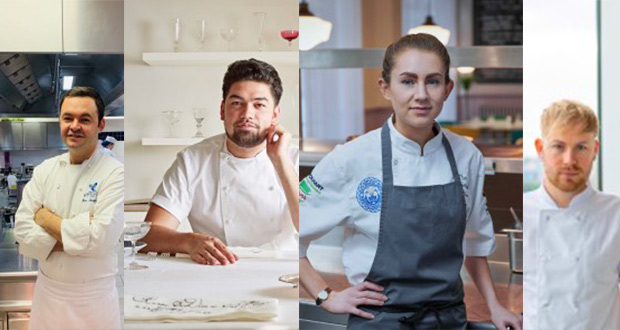 The Bocuse d'Or UK Academy has announced the line up of chefs who will compete in the Bocuse d'Or National Selection at The Restaurant Show on Monday 30 September.
The winning chef will go forward to compete in the European heats of the Bocuse d'Or, due to take place in June 2020. He or she will also have the opportunity to complete a funded stage in a highly respected British or European restaurant.
The four chefs competing in the final will be:
Ian Musgrave, sous chef at The Ritz London and British Culinary Federation Chef of the Year 2018
Luke Selby, Great British Menu winner 2019 and Roux Scholar 2017 and
National Chef of the Year 2018
Robert Sussex from 1 More London Place and National Chef of the Year 2019 semi-finalist
Ruth Hansom, head chef at Pomona in London and Young National Chef of the Year winner 2017 and The Royal Academy of Culinary Arts Michael Bourdin
Scholar 2016
Founded in 1987 by the late and legendary Paul Bocuse, the Bocuse d'Or is the greatest culinary spectacle in the world with more than 62 countries entering the last competition. The UK has competed in all but one world final with former candidates including Tom Phillips of Restaurant Story, Adam Bennett of The Cross at Kenilworth, Simon Hulstone of The Elephant in Torquay, André Garrett of the Corinthia Hotel in London, John Williams of The Ritz London and Clive Fretwell of Belmond Le Manoir aux Quat'Saisons.
To compete in the Bocuse d'Or is one of the toughest culinary challenges for any chef and to prepare them, each of the finalists will receive coaching and mentoring from the UK
culinary team – including Adam Bennett MCA, John Williams OBE and Bocuse d'Or UK candidate 2019, Tom Phillips.
The Bocuse d'Or UK Academy has selected a panel of high profile chefs, from the UK and beyond with experience of the Bocuse d'Or, to judge the chefs. The judges will look for culinary technique and creativity, complexity where appropriate and harmony of
combinations within the dish. They will also be looking for chefs to demonstrate an
understanding of the unique style of the Bocuse d'Or in the three hour 45 minute cook off.
Discover more about the Bocuse d'Or from top chefs and sponsors: http://bocusedoruk.co.uk/join-the-journey-bocuse-dor-uk/