A staggering 86% of UK hospitality operators will likely have to close in the next three years if their business costs don't reduce and their revenue doesn't increase, according to a new report.
Half of these (50%) will likely have to close within 12 months' time.
The Plates to Profits Report* by Creed Foodservice, surveyed directors, owners, managers and chefs in restaurants, hotels and pubs, and brings to life the impact the pandemic, rising inflation and increasing food costs, together with the squeezed consumer purse, is having on their operations.
Philip de Ternant, Managing Director at Creed Foodservice, says: "We all know the hospitality sector has taken a real hammering but to see the number of operators, who could very realistically be forced to close in the coming months, is sobering and stark.
"Inflation and rising food costs are affecting the entire supply chain, from suppliers, logistics companies, transportation, the front line such as restaurants, pubs and hotels, and wholesalers like us. Over the last year we've seen a 27% increase on eggs and baking potatoes, another staple, has risen by £8 a case.
"Combine this with consumers who are also having to review their expenditure – nearly half of operators told us that the number of bookings at their establishment have reduced – the pressure mounts even more."
Unsurprisingly, two thirds (63%) of operators said business concerns around revenue and profit has impacted their mental health over the past 12 months.
Philip de Ternant continues: "Our Plates to Profits Report is in part about genuinely understanding what state the sector is in but more so about giving operators advice, guidance and actionable ideas on how they can increase the profit on every plate they serve and drive maximum revenue into their establishment.
"The vast majority of operators (85%) told us they will need to increase their menu prices to stay financially viable. However, 83% are worried that if they do this it will alienate consumers and put them off visiting their establishment. They feel stuck between a rock and hard place.
"We've worked with our insights team, chefs, category specialists and senior figures to look at every aspect of an operation; from reducing food waste, maximising margins on dishes, navigating staff shortages to still create quality dishes, communicating the story behind the menu to consumers, utilising seasonal produce, recipe ideas and increasing prices through offering premium sides, high-quality specials and set-menus. We've also liaised with some of our restaurant and pub customers who have also contributed thoughts to the Report."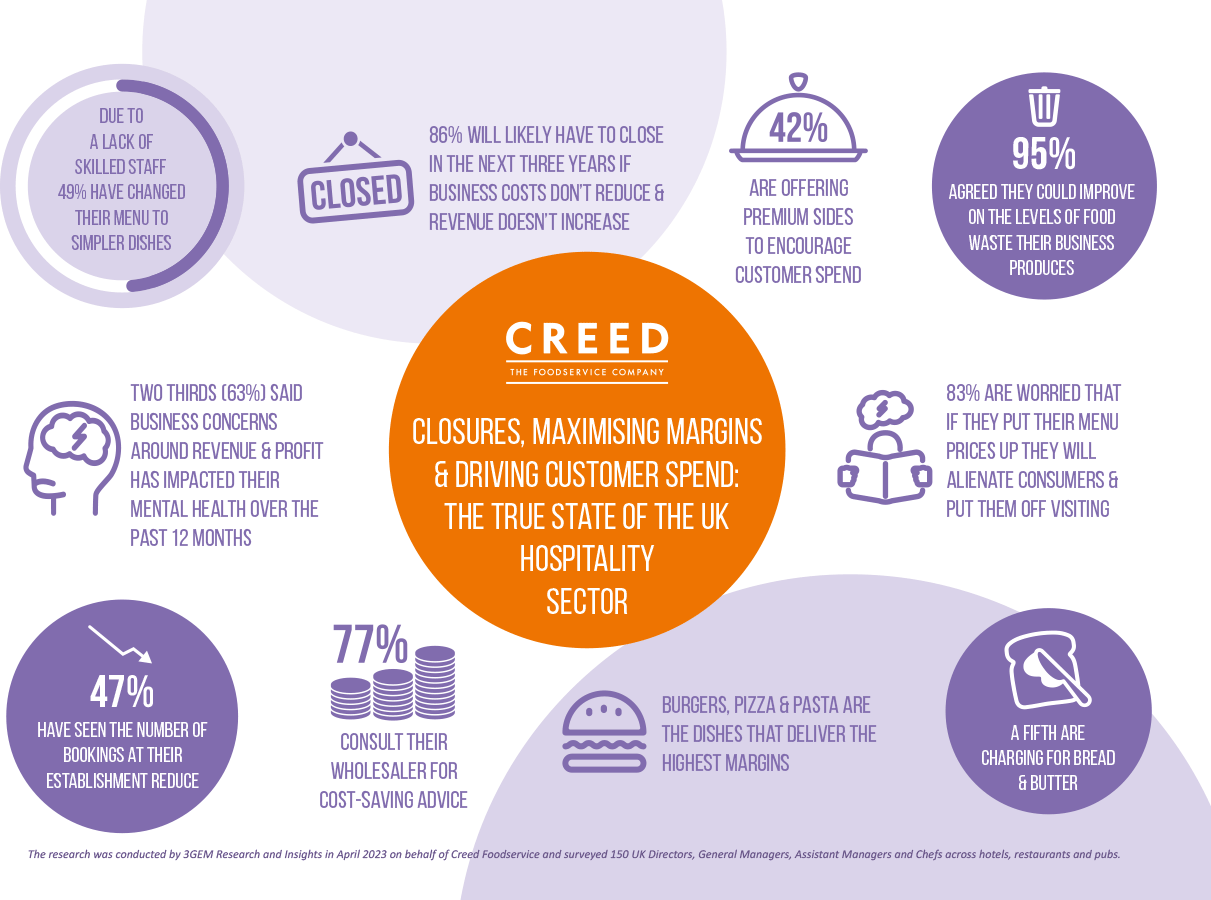 Key Report Discoveries
Changing Consumer Behaviour
Operators told Creed:
Nearly half (47%) have seen the number of bookings reduce
45% said customers are choosing sharing food options
43% said customers are reducing the number of courses they order
Four out of ten (40%) said customers are choosing more affordable dishes and reducing the number of sides they order
A third (33%) said customers are booking into earlier time slots to make the most of 'early bird' menu deals
Three out of ten (29%) said customers are not ordering coffee or tea at the end of their meal
Nearly two out of ten (19%) said customers are not ordering alcohol and instead choosing soft drinks or water
Navigating staff shortages
Due to not having a highly skilled chef / catering team, operators told Creed:
Half (49%) have had to change their menu to more simpler dishes
A further 39% have had to buy in more pre-prepared or semi-prepared dishes and ingredients
Four out of ten (39%) have had to stop serving food on certain days or reduce opening times as they don't have a chef or catering team available
Food waste eats profits
Interestingly, despite rising cost pressures, food waste is still an issue across the entire sector:
A whopping 95% of operators agreed they could improve on the levels of food waste their business produces
When asked what would help them reduce their food waste, operators told Creed:

Using pre-prepared stocks, sauces and gravies – 58%
Ordering bespoke sized cuts and packs of meat – 55%
Using frozen bake-off pastries and desserts – 53%
Using typical food waste in dishes ie potato peelings on top of pies, cauliflower stalks in dishes not just the florets etc – 49%
Using dried herbs and spices instead of fresh – 27%
Consolidating their menu – 13%
 Dishes that maximise margins
Operators said:
Burgers are the dish that delivers the highest margin for most (41%)
Over a third said Italian fare including pizzas (37%) and pasta dishes (35%) make the most margin
Nearly a quarter find that steak (23%) and chicken dishes (22%) deliver the best margin, as do plant-based dishes
 Initiatives to drive customer spend
Operators said:
53% are offering two or three course set menus
Half (50%) are using more seasonal produce to try and manage increased business costs
49% are offering an enhanced drink selection including cocktails
A further 47% have streamlined their menu to utilise more affordable ingredients
44% are offering higher priced specials and 42% are offering premium sides
Four out of ten (39%) have started to use outdoor space to maximise capacity and extra potential covers in the past couple of years, in response to rising inflation
A fifth (20%) are charging for bread and butter
19% have set service times ie 6pm and 8pm to get double covers on all their tables each lunch/dinner
16% are training staff on upsell opportunities
Philip de Ternant concludes: "The Report has highlighted the importance of the entire supply chain working together. We're all facing similar challenges; no one is immune. It's evident that in many cases seeking support from each other is already happening; over three quarters (77%) of operators consult their wholesalers for cost-saving advice.
"What is one of the most uplifting aspects to the Report is how it's shown us the sector's fighting spirit is well and truly alive. We're seeing some really great innovation coming through; both from the Report findings and also what we're seeing when we're out visiting customers."