Returning on Friday May 26th for its third year, the fast growing Pub Pride event from the Ask for Clive campaign invites British pubs and nightlife venues to establish themselves as friendly spaces for the LGBTQ+ community.
The event welcomes in Pride month for local communities, with pubs, bars, and clubs participating in a range of ways. Some simply display Pub Pride flags and bunting to show their support, while others put on special events including live music, drag shows, karaoke, street art, as well as food and drinks.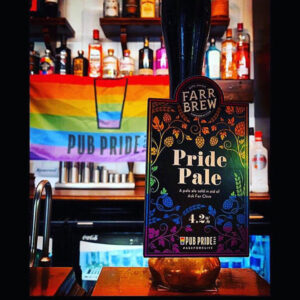 Campaign organisers recommend that venues spread the celebration across three nights, including softer entertainment such as cinema and talks on Thursday and a party night on Friday. Venues can take part by signing up by March 30th 2023 at www.pubprideshop.co.uk
2022 saw more than 250 venues across the UK sign up, from villages to major cities. Ask for Clive aims to grow this significantly in 2023 and are working to this end with existing venues and trade partners including Punch, Big Smoke, Brighton Gin, Piano Works, and GigRealm.
Registration starts from just £25. This will sign a venue up, map it and register it as an Ask For Clive venue and a welcome space for the LGBTQ+ community. £50 will get a venue Flags and Bunting in our 2023 theme of Purple, and £100 will get all of this and six staff tees. The campaign will market participating venues on its social channels, and send a pack of custom digital assets with their logo on that can be used in the lead-up and on the night.
Danny Clare, Co-Founder and Chair of Ask for Clive commented: "Pub Pride drives much needed footfall and sales for venues, but more importantly it boosts inclusivity. We created Ask For Clive to counter a rise in discrimination, but through positive means. The campaign is most effective where you'd least expect it, and is present in almost every type of hospitality and retail sector across the nation.
"Being registered with Ask For Clive makes a more desirable, welcoming venue for all, as people are able to see inclusivity values on your front door. Since starting in 2019, the campaign sticker is now on the doors of over 3,000 establishments across the UK, including iconic gay clubs in major cities, but also pubs in rural communities, which we celebrate even more.
"Pub Pride is our biggest annual fundraiser, and we aim to do this through added value and engagement, contributions from Partner Beers and our cocktail competition, discretionary contributions to entertainment, food and beverage promotions are all encouraged. Visitors shouldn't feel like they are donating, and we won't be shaking a tin."
Sean Hughes, owner of Gastropub Dylan's at the Kings Arms, said: "Pub Pride is all about getting people into local pubs in cities, towns and villages all over the UK where maybe people wouldn't usually have access to a local Pride event. It's an opportunity for everyone to come together and celebrate the diversity of people that come into and possibly work with your venue or in the venue. Most importantly, it happens where you eat and drink in your home village town or city.
"Pub Pride will always be held on the last Friday of May, just before Pride month in June. This way, pubs and venues can use this as a nice transition into Pride celebrations, leaving the flags and decorations up for the duration of Pride Month."
With around 60% of the UK's dedicated LGBTQ+ venues disappearing in a decade, Ask for Clive is also working on a 'Lost Venues' initiative to reanimate some of the iconic spaces lost in the past few years. These include The Yard in Coventry, which faces imminent closure due to development of their site.
Ask for Clive is a charity that focuses on inclusivity. It asks inclusive establishments to put a sticker with the charity name on their door with a clear message that "Everyone is Welcome Here".
The charity also provides a brief for staff on how to deal with discrimination queer patrons may experience. It is pre-emptive, and aims to create a welcoming environment where discrimination is clearly not accepted. If pub-goers see the sticker, they'll know the pub is LGBTQ+ friendly.
Register at www.pubprideshop.co.uk before March 30th.