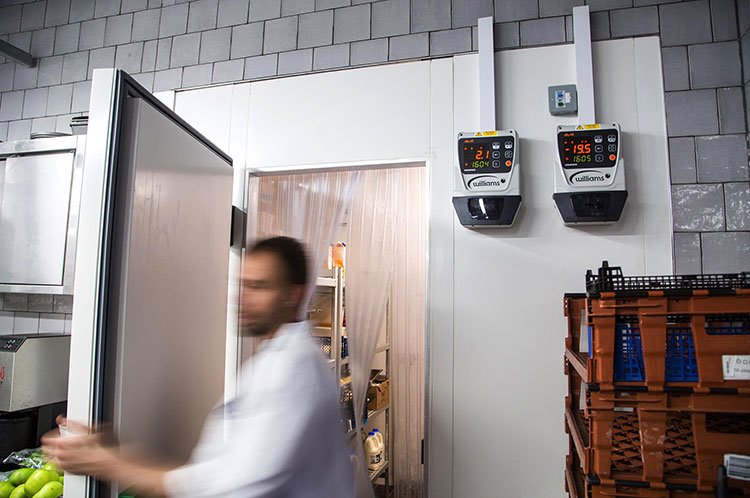 Aside from hospitality staff one of last year's hardest workers in the industry would be refrigeration, which was very likely tested to its limits ! A long and glorious summer and the World Cup was an absolute boon for the hospitality and licensed on trade. Lazy hazy evenings in pub/hotel gardens sitting on the terrace of the restaurant people all over the country brought a record-breaking summer bonanza with a £31 billion boost to the economy.
Any hospitality/pub manager worth their salt will have spared a thought for hard-working staff slaving away behind the scenes and hopefully adequately rewarded them, but can the same be said with refrigeration? Well, now may be a good time to evaluate and ensure that your refrigeration equipment is functioning to the optimum capacity, and if not is a time to upgrade?
The "Essential Tool"
The importance your hard-working refrigeration units undertake in your operation cannot be overstated; in very simple terms it is a key tool to make your business a success. Probably one of the most energy intensive pieces of equipment in your kitchen they are rarely, if ever put on standby or switched off. Research by the Waste and Resources Action Programme (wrap) estimates that the cost of food waste from the hospitality and foodservice sector is in the region of £3 billion a year, with 920,000 tons of food consigned to the waste bin of which 75% according to the sustainable restaurant Association could have been saved and consumed.
Size – The size, shape and how much you can store within the unit is one of the main considerations when purchasing a commercial refrigeration. Careful consideration should be made for space, if you have a limited floor space, then you can make maximum use of vertical space for storage and display of large of products. You should assess the storage needs of the business that you are running so that you can look for appliances that can offer you the storage space that you need.

Temperature – it will come as no surprise to hear that the main function of refrigeration keep produce at a specific temperature , either cool or frozen. Not only do they have to battle against hot temperatures in busy hands on environments,, they also have to regain temperature every time the door is opened. If adequate procedures are not followed food safety can be compromised should the correct temperature not be maintained. Therefore, for refrigeration to work successfully, there must be sufficient capacity within the unit to accommodate the desired volume of produce, allowing adequate airflow around the product to maintain the required temperature. Overload the fridge, and air will not be able to circulate and the food in question is at risk of not being cool enough to retain its freshness and may very well spoil much faster than expected. It is also vitally important that the temperature of refrigerated as monitored and recorded on a regular basis

Efficiency – A commercial refrigerator is one of the few items of equipment required to run 24-7, and can account for up to 33% of energy consumption in a commercial kitchen. With the recent business rate increases along with increasing energy prices efficient refrigeration is an absolute must for any operation, and whilst some models may appear expensive initially, they can considerably reduce costs in the long term.
So, given how crucial refrigeration is to your operation how much do you know?
For busy hands-on operators whether you're running a pub hotel or restaurant there sometimes "can often be not enough hours in the day", and as a busy operator you may find yourself often wearing a multitude of hats, from manager to administrator, waiter to bar person, cook to cleaner, and sometimes inadvertently procedures can "slip off the radar".
Understanding Refrigeration
Types of commercial refrigeration?
There is an assortment of equipment that comes under the umbrella of Commercial Refrigeration
• Bottle coolers – displays bottled drinks and keeps them cool, ideal for use in pubs, bars, cafes and restaurants.
• Ice makers – used to provide ice cubes for drinks.
• Cellar coolers – used by pubs and bars to cool beer and wine cellars.
• Cold rooms and freezer rooms – a temperature controlled room that can be used to store a large amount of food. They are easily accessible so ideal for commercial kitchens.
• Chilled and frozen storage cabinets – designed to withstand heavy use and high temperatures.
• Display cabinets and cases – keeps stock cool and upright and whilst enticing customers to make a purchase. Ideal for shops and cafes.
• Blast freezers – widely used in the food industry for rapid cooling of products such as ice cream, frozen meals, meat, fish, poultry and vegetables.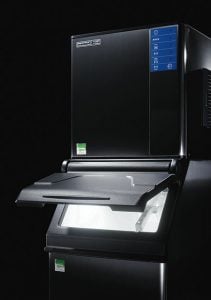 Maidaid Halcyon has achieved the impressive milestone of supplying cost effective, high quality products to the professional catering industry for over forty years, and are are firmly established as leaders within the industry. our undercounter, pass through & rack dishwashers, with cycle times from 70 seconds, are designed for simple, quick operation – vital in the busy workplace, says sales director Julian Lambert; "They are versatile, energy saving and super-efficient. Utensil and pot washers complete our warewashing offering. All designed for the busy, restaurant kitchen environment."
"Our product range is only part of what we bring to our customers: Maidaid Halcyon works with a fully trained, Nationwide Distributor Network. Each of our distributors truly understands a customer's needs and can be relied upon to offer expert advice. Where necessary they will carry out site surveys and work with clients to ensure the right machine is specified and installed. To further support end users, our distributors liaise with us to provide competent, professional assistance in all the associated technologies of water treatment, chemical choice, service and maintenance."
"We are dedicated to providing comprehensive onsite training. We are passionate about good housekeeping and how imperative it is to clean warewashing equipment and ice machines on a daily basis. Not only will this make the machine last longer but most importantly it will help to maintain high levels of hygiene and give better, cleaner results."
With penalties for contravening food hygiene regulations severe it is important to get a clear understanding of refrigeration in a commercial setting.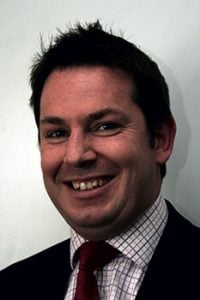 Paul Holland, Regional Business Manager at Foster Refrigeration says, "Refrigeration is a key element in the success of any commercial kitchen and needs to be chosen for the specific needs and space availability of that outlet. With our extensive knowledge as a leading industry player for many years, the key areas we believe need to be considered when choosing new refrigeration equipment are reliability and performance, innovation, energy efficiency and service. For our customers, energy efficiency is becoming an increasingly important aspect in their decision making. Across the industry as a whole, the spotlight is being shone more and more on manufacturers' energy saving credentials, and rightly so. Energy efficiency can be achieved in a number of ways across an outlet and caterers are increasingly expecting their products to contribute to several of these at one time."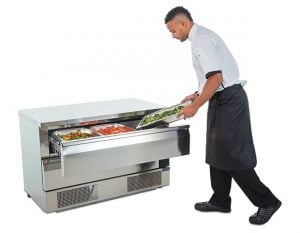 When it comes to ensuring that a commercial kitchen runs successfully, operators need to evaluate both the current and future demands of the equipment and no more is this so than for refrigeration, says Glenn Roberts, Global Head of Polar Refrigeration. "Factors such as whether the fridge will be positioned front or back of house, the projected ambient temperature, space available and whether a walk-in or reach-in design is required are all key considerations. For many operators optimising available space is key, therefore thought should be given as to whether an undercounter unit or prep table, which can provide additional work tops, is better use of space than say an upright cabinet."
"From a feature perspective; fan assisted cooling for rapid temperature recovery, fully adjustable shelves for added flexibility, sturdy front brake castors to ensure easy manoeuvrability when cleaning, and secure lockable self-closing doors for reassurance out of hours, are all useful features to consider. Furthermore, operators should also take notice of the storage recommendations from their food suppliers."
Space Savvy Options
"Refrigeration is a vital appliance needed within any professional kitchen," says Roz Scourfield, National Sales Manager at Hoshizaki UK. "Providing the means to store and preserve everything from fresh meat, dairy and vegetables back of house, to chilled snacks, and beverages behind the bar. However, one common constraint for small-medium commercial kitchens is space. As such, operators should look to source space-savvy freestanding refrigerators, such as those within the Snowflake GII HC range, in order to make best use out of their kitchen space."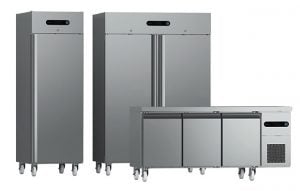 "With the Hoshizaki Snowflake GII HC units, operators can also significantly reduce their energy consumption, and thus, make substantial long-term savings. This is achieved by combining the very latest technology with environmentally friendly, HFC-free materials within the Snowflake GII HC range.Featuring a high-grade stainless-steel interior and exterior with anti-corrosion coating, ergonomic design including a full-length handle, lockable door for security and an easy to read digital display, the units in the range also offer excellent reliability at an affordable price. Hygiene and cleaning is also enhanced thanks to an innovative design, which includes moulded inner liners, rounded corners at the base plate and removable gaskets."
Dual compartment coldrooms offer flexible solution
As kitchen space gets squeezed by the need to fit more diners in the restaurant, Williams' modular coldrooms allow operators to make maximum use of space, since they can be designed to match whatever is available. We are now seeing a big demand for coldrooms that can be sited front of house says Williams Refrigeration marketing director Malcolm Harling : "The Williams dual coldrooms are an ideal storage solution, since both fresh and frozen products can be stored in the one space-saving room. They can even be located outside, for example in the back yard, which can be a major advantage to space-starved operations."
"We now offer flexible coldrooms that offer two different storage temperatures, such as chilled and frozen. Since the coldrooms are based around a modular design, they can fit just about any space or requirement," he added.
These latest Williams coldrooms are available in a huge range of options, including different floors, doors and refrigeration systems. For example, doors can be either standard or sliding, depending on what fits best with the operation.
Retro Bar Finds Retro Refrigeration 'The Perfect Fit'
Leeds' business district is a fusion of past and future. Gleaming modern towers sit side by side with Victorian brick. Right in the heart of the district is Leeds Postal Service, a bar that draws on Leeds' history and brings it bang up to date.
Creative director Barry Darnell explains. "The main postal sorting office used to be on this site, until it closed down in the 80s. We wanted to capture a little slice of that history, creating the idea that a small part of that old workplace survived to this day."
The interior has been designed to recreate the look and feel combining authentic period furniture alongside carefully chosen modern equipment.
Refrigeration plays a more central role at the bar than usual, and Barry knew they had to have something special for what they were planning. "You don't normally think about the fridges when you come to a bar. Or even see them! But we knew we wanted to make a focal point out of them."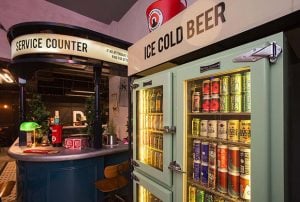 One of the unusual features at Leeds Postal Service is that it is self-service. Customers can admire their range of craft beers close up, before picking out what they want themselves. "We knew we needed equipment that looked amazing while fitting in with the concept," says Barry.
In collaboration with project managers W&D Studio, they considered their options. "Initially we were considering finding vintage American fridges, but W&D pointed out that servicing them would be a nightmare – even if we could locate spare parts!" Luckily, W&D had the perfect solution. "They told us about Retro Refrigeration from Precision, which was exactly what we were looking for."
Precision's Retro Refrigeration combines fifties styling with the latest technology, creating a modern, high performance refrigerator. With electronic controls, sensors and zero ODP injected polyurethane insulation, it's capable of operating in high ambient temperatures up to 43°.
"It's been very easy to use," says Barry. "The controls are simple to use, and it's maintained its temperature perfectly – complete peace of mind!"
It's also possible to customise Retro Refrigeration units by painting it to match your décor, simply by providing Precision with a RAL number.
"We couldn't recommend Precision strongly enough," says Barry. "They've guided us through every step of the process, helping us pick exactly what we need, choosing the colour, delivered it exactly when they said they would – the service has been fantastic."
"Plus, it's made in Britain. It's great to see something of this quality made here, and it's a good feeling supporting a local company."
Eco-Friendly
Adam Byron, national sales manager of Hubbard Systems, which distributes the Scotsman range of icemakers, comments:
"The energy efficiency of refrigerators and freezers is a vital factor not only for the environment but also for the work environment in commercial kitchens. Electricity used by refrigerators or freezers generates heat which is given off to the surrounding environment. So, the lower their energy consumption, the less heat the cabinets will create. The Scotsman EC models are self-contained icemakers with a built in wastewater pump, says Adam Byron, national sales manager of Hubbard Systems: "Their recent addition to the EcoX range means they are the only ice machines with this technology using eco-friendly refrigerants on the market. The pump gives greater flexibility in installation, allowing a wider range of locations to take advantage of a supply of crystal-clear ice cubes."
"Traditional ice machines have to be installed above the drains, to allow waste water to flow away. The EC's pump means they can be sited further away from the drain, or even below the drain height, making it ideal for use, for example, in basement bars.
"Scotsman has ensured that the EcoX range uses only natural refrigerants to be fully compliant with current and forthcoming F-gas regulations. This gives them an Ozone Depletion Potential of zero and a Global Warming Potential of three or less.
"In the ice machine market, there is a strong trend towards energy- and water-saving features. This has been driven both by dealers, whose customers are looking to curb utility bills, and manufacturers developing new technologies."
What to look for – the Do's and Don'ts
With a commercial specification fridge in a busy working kitchen, the door is going to be opened very regularly and probably be exposed to a far hotter kitchen. The compressor needs to be powerful enough to rapidly pull down the internal fridge temperature to replace heat loss.
Most commercial fridges also incorporate fans which evenly spread the cool air through the cabinet, a feature domestic fridges do not have. Commercial fridges are better insulated, designed for easy cleaning and some are able to electronically record temperatures which can be used as proof of due diligence in food safety procedures should a food poising claim be made. As well as freestanding fridges it is also possible to get walk-in fridges which can be built to fit a specific kitchen area.
Look After It!
Cooling hot foods in a fridge already containing chilled food is also very dangerous as it will raise the temperature of all the food in the fridge and pose a food safety risk. Any kitchen which wants to have pre-cooked, chilled food as a major part of the provision must have blast refrigeration.
How to choose the right fridge or freezer
Talk to a manufacturer or distributor who will look at the type of operation you are running, the mix of fresh, chilled and frozen food you serve, the volume of meals you are preparing. This will identify the capacity of unit you need and the power of it. It is the same with ice cube needs – let someone else do the specification sums. The advice will be free.
The location of any refrigeration equipment is important. Fridges designed for use in temperate climates such as the UK and most of Europe work on a maximum ambient temperature of 28 deg C. That means that while the atmosphere in the kitchen will always fluctuate according to the cooking going on and the outside temperature, the thermometer does not rise above 28 deg C. Some units are designed to operate in ambient temperatures of up to 43 deg C, check the specifications for each model.
If it does, then the compressor in the fridge, which is the motor that pumps the cooling fluid around the cooling bars, will be overworked. This could lead to premature burn out of the compressor and have a food safety risk. Where ever practical, refrigeration units should be sited away from direct cooking heat.
It is good working practice to regularly check the temperature of the fridge using a digital thermometer. A service engineer will do this as routine, but if the fridge is beginning to lose power, then the engineer will need to be called out quickly to prevent food from the risk of contamination. Many commercial fridges have digital temperature displays, but it is still useful to perform this occasional check.
As part of the regular thorough cleaning of the kitchen, include using an appropriate attachment to a vacuum cleaner to clean the area around the compressor if it is accessible. This will prevent excess dust and fluff from getting inside the compressor and being a damage risk.
Because of the constant opening and closing of fridge doors, door seals will wear out. A damaged door seal will force the compressor to work harder than its needs to, which apart from anything else will increase energy use. The service engineer will check them on a routine inspection, but it should be part of a fridge clean-down to inspect the seals for any sign of damage. It will also prolong the life of door seals if staff are encouraged to close doors and not slam them shut.

Don't Forget the Wine Fridge
Wine Fridges come in various shapes and sizes, say Callum Dooley of Elite Fridges and are suitable for undercounter, fully integrated use or tall units which are able to be built into cabinetry. Depending on the size of the unit, will determine how many bottles you can store. A standard 60cm wide undercounter unit, will have a capacity of approximately 50 bottles where as a full height unit will have a capacity of 200 or more bottles.
Callum said: "Wine fridges can be divided into two categories, service and aging cabinets. If your fridge is purely for the ageing of wines, the unit needs to mimic a wine cellar and work optimally around 12°C to ensure the aging process isn't rushed as this can sour the wines. Service wine fridges are designed to bring wines to their optimal serving temperature for the consumer, this means most service wine fridges will have an operating temperature of 5-20°C to cater for the full range of wines available."
"There is also the option of a multipurpose unit, which will have two or three independently controlled temperature zones which can be used to age wines whilst simultaneously bringing other wines to their serving temperature. Some of the most reliable units available with two or three temperature zones are from brands like Dunavox, Liebherr and Miele."
In brief
Do:
• Check and clean door seals weekly
• Clean up spillages immediately
• Visually check compressor fins and vents monthly
• Defrost freezers to manufacturers' instructions
• Check working temperature monthly
Don't:
X Overload the fridge
X Allow fans to be obstructed
X Leave the door open
X Put hot food in
X Slam doors
www.hoshizaki-europe.com
www.williams-refrigeration.co.uk
www.elitefridges.co.uk
www.foster-fridge.com
www.polar-refrigerator.com
www.precision-refrigeration.co.uk
www.precision-refrigeration.co.uk