Real vanilla experts LittlePod have welcomed the Cygnet Theatre back to Farringdon for a special performance in their grounds.
Always ranking as one of the most important dates on the LittlePod calendar, open-air theatre returned to their garden last week and, once again, it did not disappoint.
Janet Sawyer BEM MBE – Managing Director & Founder of LittlePod commented, "To host the Cygnet Theatre team on the LittlePod lawn is always a treat and, true to tradition, Amanda Knott and her actors put on a fabulous performance in Farringdon. Believe it or not, given the conditions both before and after, the sun even shone!
"Our audience numbered 50 – half of them from the village – and, on a balmy, warm evening on the LittlePod lawn, there were picnics aplenty as A Midsummer Night's Dream played out on what proved to be another perfect occasion here in East Devon.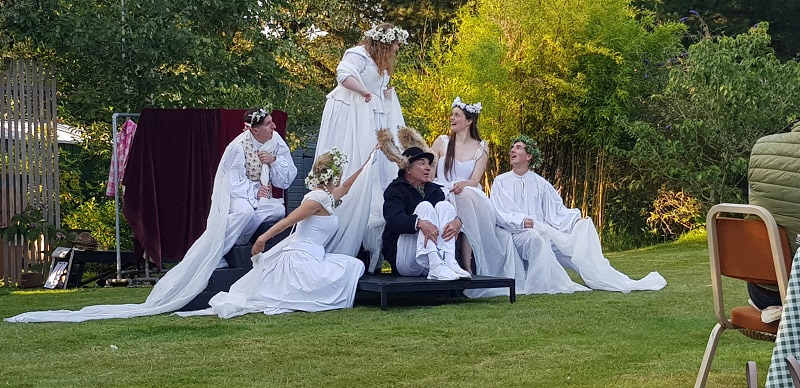 "The acting fabulous and the production so creative, an audience member's dog even tried to join in at one point – an incident that only added to the evening's revels. The Cygnet players took it all in their stride, of course, this a flawless performance that, like all those that have gone before, is certain to live long in our memories.
"To Amanda – the very talented former associate director of the Theatre Royal in Plymouth – we give our thanks and to all the Cygnet team, who completed their Season of Shakespeare at the weekend, we send our best wishes for the remainder of the summer. Thank-you also to all who joined our audience, and to Fran in particular for all her help. It is always a delight to welcome such visitors to our garden and we look forward to seeing everyone again soon."