The Bridge Inn in Topsham, Devon has been relisted by the Department for Digital, Culture, Media and Sport (DCMS) on the advice of Historic England.
Run by the same family since 1897 with a history dating back to at least the 18th century, it retains many of its historic features.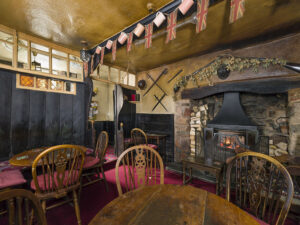 The entrance to the Bridge Inn leads to a panelled corridor, on the left of which is the tap room, with fixed seating and rare historic advertising in the glazing above the door for Kennaway's Scotch whisky.
A little further on is the back of an old settle or freestanding bench seat, glazed at the top, forming a snug. It features a large stone fireplace, a salt cupboard and a hatch to a parlour through which drinks are fetched from the ground-floor 'cellar'.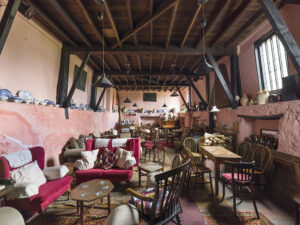 The parlour area is a private space in which customers may be invited to sit. Only a few other pubs in the country are thought to have similar rooms where customers can sit in a space behind a working serving area.
At the rear, the malt-house room is only used for functions or as an overflow when the pub is busy. The bar counter here was installed in the mid-1960s but the brick fireplace is inter-war and one of the old hop shoots survives. Between the cellar and the malt-house is a brick-built furnace that provided hot air for the malting operations.
PROTECTING HISTORIC PUBS AND THEIR INTERIORS
Eleven pubs across England plus a pair of cast-iron lamps have been listed, upgraded or relisted as part of this project to protect historic pubs and their interiors. The list of pubs was put forward by the Campaign for Real Ale (CAMRA) Pub Heritage Group, as part of an on-going collaboration between Historic England and CAMRA.
Relisting essentially involves updating and adding to listing descriptions of buildings or sites on the National Heritage List, some of which were written 30 years ago.
Although the term 'public house' can be traced back to the 1600s, the 'pub' as a distinct building type emerged in the mid-1800s. It brought together and developed three earlier types of building – the inn, tavern and alehouse.
Duncan Wilson, Chief Executive, Historic England said:
"At a time when many historic pubs in England are susceptible to change or at risk of closure, we are pleased to celebrate pubs that have kept their remarkable interiors. These rare interiors help tell the fascinating story of pubs over the centuries and how they reflected society."
Paul Ainsworth, Chairman of CAMRA's Pub Heritage Group said:
"Times are tough for all pubs at the moment, including those with important historic interiors. The more protection they can receive, the better. We have been working with Historic England to identify pubs that deserve to be listed, upgraded or have their list descriptions enhanced so that people can truly appreciate why they are special."

Heritage Minister Nigel Huddleston said:
"Our historic pubs are national institutions that have sat at the heart of local communities for generations, bringing people together and shining a light on our shared past. These listings recognise and celebrate the importance of the local pub to people across the country and will make sure their legacy endures for many years to come."
THE OTHER PUBS AROUND THE COUNTRY ARE:
[bg_collapse view="button-blue" color="#4a4949″ icon="arrow" expand_text="Yorkshire" collapse_text="Show Less" ]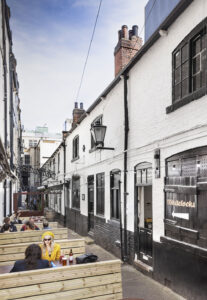 Whitelock's Ale House, Turk's Head Yard, Leeds, LS1 6HB (upgraded from Grade II to Grade II*).
Described by John Betjeman as 'the very heart of Leeds', Whitelock's became a favourite watering hole for celebrities including actor Peter O'Toole, star of epic 1962 film Lawrence of Arabia and Prima Ballerina Assoluta Dame Margaret Evelyn (Margot Fonteyn).
[/bg_collapse]
[bg_collapse view="button-blue" color="#4a4949″ icon="arrow" expand_text="London " collapse_text="Show Less" ]
The Prince Alfred in Maida Vale, (upgraded to Grade II*).
This pub, with its lavish fittings and exceptionally well-preserved bar compartments, dates from the height of the pub boom in the 1890s and gives a clear sense of the way pubs would have looked and functioned.
A pair of cast-iron lamp standards at the front of The Prince Alfred, Maida Vale, (newly listed at Grade II).
Erected around 1898, they are a very rare example of lamps installed to draw in passing custom at a time when lighting was not common place on residential London streets. Only a very small number of these lamp standards are known to survive.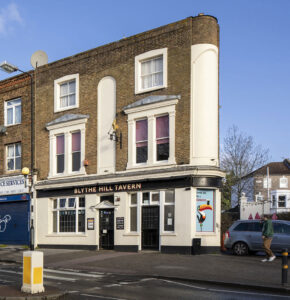 Blythe Hill Tavern, 319 Stanstead Road, Catford, SE23 1JB (newly listed at Grade II).
The Blythe Hill Tavern is a 19th century corner pub remodelled in the Brewer's Tudor style in the inter-war period. The inter-war fittings survive throughout, including curved counters with panelling, freestanding benches, imitation wood panelling, and two fireplaces – one with a decorated metal hood and another with a grey-blue tiled surround featuring a sailing ship.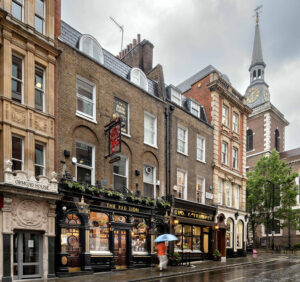 Red Lion, 2 Duke of York Street, London, SW1Y 6JP (relisted at Grade II).
This is one of London's most remarkable pubs and a fine example of a Victorian gin Palace-style. It was built in 1821 but its frontage was reworked in 1871 by architect W H Rawlings. The counter at the front has drop-down panels for servicing the beer engines in former days.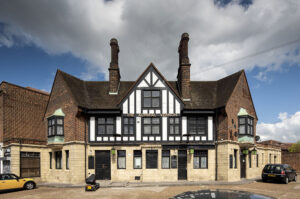 Admiral Vernon, 141 Broad Street, Dagenham, RM10 9HP (newly listed at Grade II).
Built in the popular 'Brewers' Tudor style to serve the Becontree Estate, one of the largest and most ambitious council estates of the period, its interior is much as it was when its first customers walked through its doors in the 1930s.
[/bg_collapse]
[bg_collapse view="button-blue" color="#4a4949″ icon="arrow" expand_text="South East " collapse_text="Show Less" ]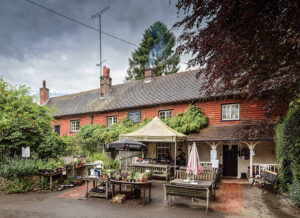 Harrow Inn, Steep, Petersfield, GU32 2DA (relisted at Grade II).
This roadside inn dates to around the 18th century or possibly earlier. Phases of the building's history can be read through its timber frame, smokehood, inglenook and beams. It retains many historical features including informal bar hatches, rather than bar fronts.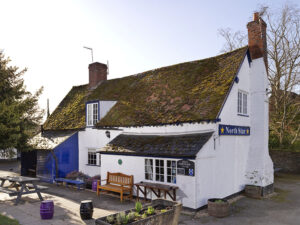 North Star, 2 Stocks Lane, Steventon, Oxfordshire, OX13 6SG (relisted at Grade II).
The North Star Inn dates to the late-16th or 17th century and was probably originally domestic in character. The main bar contains freestanding bench seats with arms and a high back that are normally found in country kitchens and pubs – forming a rectangle focusing on the fireplace.
[/bg_collapse]
[bg_collapse view="button-blue" color="#4a4949″ icon="arrow" expand_text="East Of England " collapse_text="Show Less" ]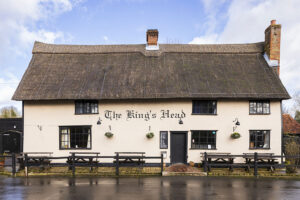 Kings Head (Low House), Gorams Mill Lane, Laxfield, IP13 8DW (relisted at Grade II).
The earliest portion of this exceptionally well-preserved village pub dates to the 16th century and was extended in the 18th century. It has been identified as one of just seven pubs in England to retain a historic service arrangement.
[/bg_collapse]
[bg_collapse view="button-blue" color="#4a4949″ icon="arrow" expand_text="North West " collapse_text="Show Less" ]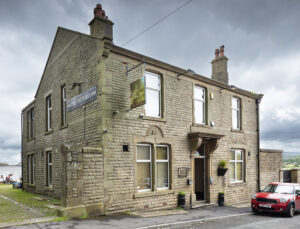 Victoria, St Johns Street, Great Harwood, Lancashire, BB6 7EP (relisted at Grade II).
A fine Edwardian pub of 1905 with an intact northern 'lobby plan' arrangement. The lobby, drinking corridor and staircase all have full-height Art Nouveau tiling with flower motifs.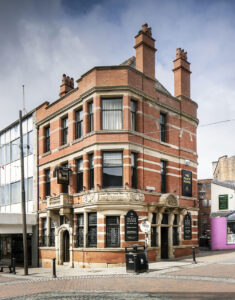 Black Horse, 166 Friargate, Preston, Lancashire, PR1 2EJ (relisted at Grade II).
An impressive pub from the boom years of Victorian urban pub building.
[/bg_collapse]