A much-loved Buckinghamshire village pub reopened at the weekend following a £240,000 revamp.
The overhaul of The Horse & Jockey at Tylers Green has been undertaken by Heineken-owned Star Pubs & Bars and licensee Alex van Someren. It has upgraded the historic pub into a great quality traditional village local and introduced affordable pub grub.
The external works have carefully renovated the outside of The Horse & Jockey, painting it pale grey and installing new lighting, signage and planting to bring out all its character. There is an area of smart new seating for 50 at the front and an enclosed 50-seater garden, complete with new decking and lantern lighting, at the rear.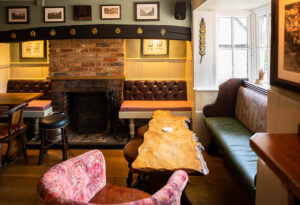 To add to the history, Alex has made a display of pictures of the pub and the area through the ages.
The reopening marks Alex's first anniversary as licensee of The Horse & Jockey. Alex formerly ran The Squirrel at Penn Street until her lease expired in spring 2022. Recalls Alex: "The Horse & Jockey had only been open intermittently over the previous four years and a number of its customers had moved to The Squirrel. When they heard I was looking for a new pub, they asked me to take over The Horse & Jockey. It was shut at the time, and they were fearful for its future. They even banded together and helped clean the pub and tidy the garden. Since then, local residents have supported me every step of the way, and people tell me The Horse & Jockey is the busiest it has been in 40 years. It's fantastic to be able to thank everyone for their backing with this refurbishment."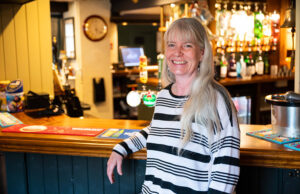 Adds Alex: "I fell in the love with The Horse & Jockey as soon as I walked in. It's my ideal pub – a beautiful old building in a lovely part of the world with a welcoming community around it. It looks gorgeous now the work has been done. It's so exciting to be finally opening the doors and showing everyone the changes."
Comments Star Pubs & Bars' area manager Andrew Downie: "Alex has put her all into The Horse & Jockey over the past 12 months, focusing on what the community wants and bringing in a quiz, darts and live music. It's no surprise people who hadn't been in for years, in addition to a host of new customers, have become regulars. Alex has done a tremendous job of reviving the pub's fortunes, turning it into thriving, popular local even before the investment. The Horse & Jockey has a fantastic new look to match, and I've every confidence that, with Alex at the helm, it will continue to go from strength to strength."
The Horse & Jockey is believed originally to have been three cottages that were converted into a pub in 1844. It was initially named The Horse & Groom.