The Portman Group's fifth annual research report into UK public attitudes to low and no alcohol alternatives is an important point to pause and take stock of an historic increase in the sales over the category over this time.
The report reveals the market has grown by over 130% from sales at £108 million in 2018/19 to one today worth £255 million, and has matured and perhaps the category has now settled in the minds of consumers.
The results show how these products have become ingrained with UK alcohol drinkers and their moderation habits, but sound a note of caution after years of explosive growth, suggesting further steps may need to be taken to foster further growth, the reports says.
The Portman Group once again partnered with the market research company YouGov, to commission an online poll of YouGov surveyed 2,381 adults across the UK online between 28 and 29 November 2022. The figures have been weighted and are representative of all UK adults (aged 18+).
The headline findings show: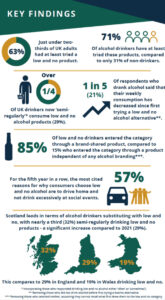 The research continues to tell a positive story of how low and no products have become part of UK consumer buying habits. Five years of polling have given a substantial data set to reflect and build conclusions. It shows how these products are by and large bought by current alcohol drinkers, as a key tool for moderation and responsible drinking.
It is leading to a significant proportion of alcohol drinkers to have cut back their weekly alcohol consumption since first trying a low and no alcohol alternative.
These findings are echoed in recent research published by the independent charity Drinkaware which found that "the use of alcohol-free/low alcohol drinks as a 'moderation technique' (things people do to moderate their drinking) of reducing by drinkers is increasing" . It also found that "Some risky drinkers use alcohol-free/low alcohol as a tool to decrease their overall alcohol intake, particularly once they have decided that they are drinking too much alcohol."
Polling may also suggest that neither the industry nor the Government should take continued growth for granted, and the Portman Group are urging greater awareness and availability of alcohol alternatives, especially in hospitality settings, would help ensure continued growth in the sector.
Another key step would be for the UK Government to launch the long-awaited consultation on low alcohol descriptors this year. The consultation would seek views on updating the terminology around the various ways in which products below 1.2%ABV are marketed – a key source of confusion for UK consumers. The consultation is also a chance for the UK to be brought in line with our Western European neighbours and deem products 0.5% ABV and below as 'alcohol-free'. This would also be in line with the UK Licensing Act, which deems products 0.5%ABV and below to be non-alcoholic.