The hospitality industry is set to see a boost of £1.21bn over King Charles' Coronation weekend (6th – 8th May), as consumers enjoy their extra time off in pubs, bars, and restaurants, according to new research.
The King Charles III Coronation Report from VoucherCodes.co.uk, reveals that £0.64bn is forecast to be spent on drink alone over the Coronation bank holiday weekend, with a further £0.57bn to be spent on food as consumers enjoy restaurants and takeaways.
The news comes as the British economy is forecast to see a total boost of £8.01bn over the Coronation weekend), with consumers spending £3.22bn more than a typical May bank holiday (£4.80bn).
Most of the hospitality spend will come from consumers visiting hospitality venues in-person, as 10.3 million people plan to visit a pub, bar, restaurant, cafe or other venue over the bank holiday weekend, spending £0.97bn. Breaking this down further, restaurants are expected to see the biggest boost in sales with 4.1m consumers planning on dining out. Bars and pubs (3.3m), cafés (2.4m), clubs (1.3m), and other venues (2.2m) will also see a rise in visitor numbers as a result of the Coronation weekend.
A further £0.24bn is set to be spent on takeaways, as 7.2m people order in as they spend their time off relaxing at home.
Predicted UK hospitality visitor numbers across the King Charles III Coronation bank holiday weekend (6th – 8th May)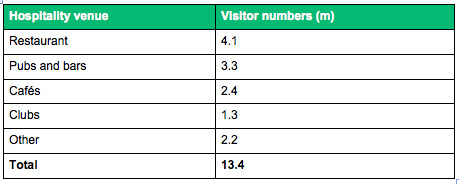 Whilst 47% of UK consumers will be celebrating the Coronation by watching the event on TV (15.8m), attending a street party (15.7m) or making the journey to London to watch the event in-person (3.4m), the other 53% of consumers will be opting out of Coronation celebrations. These consumers will instead be spending their weekend relaxing and enjoying their local restaurants, pubs and bars – in welcome news for the hospitality industry.
Maureen McDonagh, Managing Director and SVP International at VoucherCodes.co.uk, comments,
"Whilst our research shows that sentiment towards the royals is mixed, the bonus bank holiday for King Charles' Coronation will undoubtedly lead to a welcome surge in consumer spending for the hospitality sector.
"Although not everyone will be celebrating the event directly, many consumers will take advantage of the extra time off work to head to their local restaurants, pubs and bars and enjoy socialising with friends and family.
""However, it's important for the hospitality sector to keep in mind that many consumers are still adapting to the pressures of the current economic climate, and value for money is front of mind.
"Hospitality venues hoping to capitalise on the Coronation weekend should provide their customers with real value by offering deals, discounts and loyalty promotions to help reel in customers and put themselves above the competition on what is set to be an extremely busy and lucrative weekend for the industry."