The Plume of Feathers in Little Wymondley, Hitchin reopened on Saturday 10th June following an investment of £180,00 from community pub company, Admiral Taverns. The investment has enabled the brand-new passionate licensee, Sarah Woollcott, to breathe a new lease of life into the pub, ensuring it can sit at the heart of the community.
The pub has undergone a major transformation inside and out.
At the helm of the pub is brand new licensee, Sarah Woollcott who has a wealth of experience in the hospitality industry having previously run pubs in London and Reading. Working in partnership with Admiral Taverns, she has worked hard to bring her vision to life and looks forward to running the establishment alongside her daughter, Lily.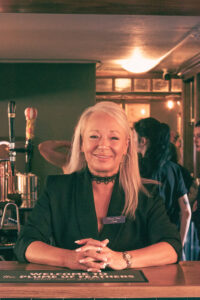 Sarah Woollcott, Licensee at the Plume of Feathers said:
"I've never been happier in my life than when I was running pubs – I love everything about it but particularly the social aspect and meeting new people. Having spent so much time in the city I am delighted to return to the countryside and I'm excited to bring the Plume of Feathers to the heart of the community. I can't wait to unveil its new look to residents, and I hope to make it the go-to social hub for everyone."
The pub also offers a separate dining room, providing an intimate space to enjoy a casual meal or special event. Sitting in the heart of the Plume of Feathers is a small 'snug' room complete with traditional wooden beams and new sofas and armchairs, which can be reserved for private occasions.
Mick Sheridan, Business Development Manager at Admiral Taverns, commented:
"I am delighted to welcome Sarah to the Plume of Feathers! Her passion and vision is extraordinary and I have total confidence that the pub will become an integral part of the community. I look forward to seeing what the future holds and I wish her the very best of luck."