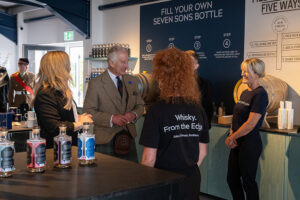 Scotland's most northerly mainland distillery, 8 Doors Distillery, was officially opened by His Majesty on Wednesday 2 August, during The King's visit to John O'Groats.
Upon arriving at the distillery, His Majesty toured the visitor centre, distillery and warehouse, meeting with a number of the team and finding out more about 8 Doors Distillery, alongside the whisky and liqueur it produces, before unveiling an official welcome plaque.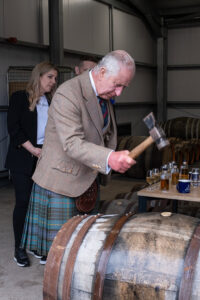 On visiting the warehouse His Majesty was invited to fill an American Oak, Pedro Ximinez Hogshead cask, before sampling the new make spirit, which captures the essence of the profile of the single malt whisky being produced at 8 Doors Distillery.
Kerry Campbell, co-founder of 8 Doors Distillery, said:
"We were honoured to welcome The King to 8 Doors Distillery and thoroughly enjoyed sharing our story and what makes our distillery so unique with him, as well as offering him the opportunity to fill a cask in our warehouse. Throughout his visit he had the opportunity to meet many of our team, from those working in our distillation team through to our retail and distillery lounge staff, all of whom embody our passion for both the whisky industry and the local area."