New spending data sees average individual transaction value flatline however against rising cost of living
The number of transactions in hospitality venues such as restaurants, bars and pubs across the UK increased by 22% on Valentine's Day this year, according to new spending data from payments company, Dojo.
The new findings are based on transaction data from Dojo, which is trusted by over one in 10 small to medium high street businesses across the UK.
This Valentine's Day saw an average of 60 transactions across the day per hospitality venue, up 22% on last year's figure (49). The average transaction value flatlined year-on-year, with couples spending £24.63 per transaction this year, almost matching the £24.92 figure from 12 months ago.
The increased number of couples out spending on hospitality resulted in a 22% rise in average sales per location year-on-year, with venues seeing daily sales of £1,477, compared with £1,210 last year.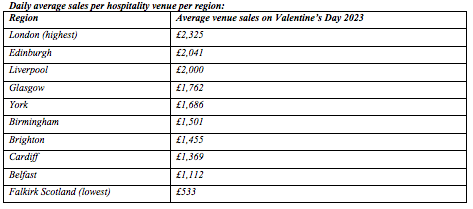 The biggest individual spenders this year were in Stoke-on-Trent – averaging £43.30 per transaction, with Wolverhampton recording the lowest average transaction value, at £16.84. Londoners spent an average of £27.40 per transaction.
Jon Knott, Head of Customer Insight at Dojo, said: "While we're still seeing the impact of a challenging economic backdrop, it's encouraging that more Brits have felt able to treat themselves on Valentine's Day. Whether it was a hearty meal or a drink to celebrate, more couples were out creating memorable experiences yesterday and in doing so, supporting businesses on the high street."